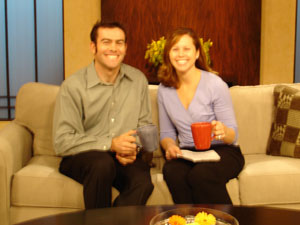 Matt Vogel and Maggie Tepas: Fill-in hosts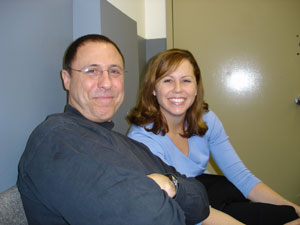 Joe and Maggie waiting in the "Green Room"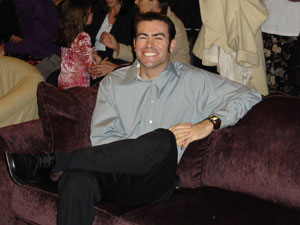 Matt Vogel: Audience member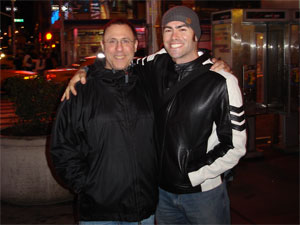 Joe and Matt: Celebrating the event in NYC
March 2005: Insulin Factor members Maggie Tepas, Bill King, Joe Solowiejczyk, and Matt Vogel were invited to represent the team in New York City on dLife TV's sports and exercise show. dLife TV is a television series dedicated to empower people living with diabetes.
The show has a similar format to "The View," except the hosts have diabetes. The dLife TV celebrity hosts include Nicole Johnson Baker (author and Miss America 1999), Mother Love (author and TV personality), J. Anthony Brown (comedian and radio co-host), and Jim Turner (actor).
dLifeTV airs every Sunday evening on CNBC, 7:00PM ET, 6:00PM CT, 4:00PM PT. Look for Maggie Tepas and Matt Vogel in the front row of the audience holding up an Insulin Factor cycling jersey. Bill King will appear on a later show about "Relationships and Diabetes." Joe Solowiejczyk is one of the diabetes consultants for dLife TV.
More info about dLife TV can be found at: www.dlife.com.