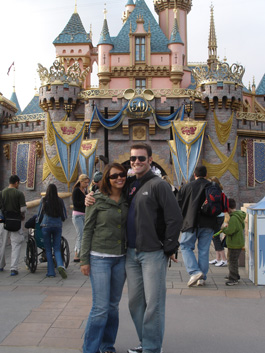 Fun at Disneyland.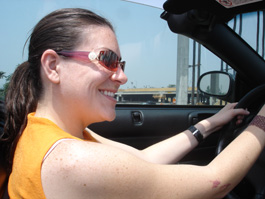 The OC with my sister.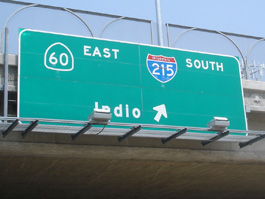 On our way to Indio.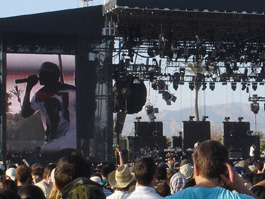 Coachella: Kanye West takes the stage.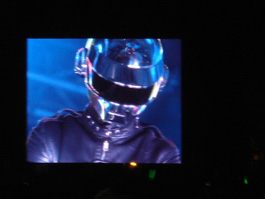 Coachella: Daft Punk performs in interesting space suits.
4/30/06: SoCal Road Trip
This weekend, my new friend Dexcom and I thoroughly enjoyed our first Southern California road trip together. My girlfriend and I drove to Orange County to visit my sister, went to Disneyland, and finished up at the Coachella Music Festival in Indio, CA. Dexcom worked well and gave me useful information throughout the trip. At Disneyland, it was nice to pull out the receiver, while in line for rides, and quickly get an idea of my BG levels. I also enjoyed watching my BG trend up and down, like a rollercoaster, after eating many sweet treats including an ice cream sandwich, chocolate churro, and Dole whip (yum).
The Coachella lineup was great and included many of my favorite bands including Kanye West, Franz Ferdinand, Daft Punk, and Depeche Mode. Again, it was very convenient to look at my Dexcom between music sets to gauge my BG values. Thanks to Dexcom, I learned that during long road trips, my BG's tend to rise and stay above 240. It could be from the lack of exercise, stress of traffic, or excitement of the trip. Next road trip, I should increase my basal a few percentage points to maintain lower BG levels.

Troubleshooting Tips from Customer Service
I talked with the director of Dexcom clinical services to discuss my issues with the system. He said that other users have reported similar issues, they are working to remedy to these quirks, but gave me some quick fixes for now. Here's what I found out:
Multiple Calibration Requests: when the Ultra meter memory starts to build up, the Dexcom receiver has trouble calibrating. The quick fix is to do the Ultra finger stick test, wait 10 to 15 minutes, and then calibrate the receiver. The receiver will use the correct time stamped BG value from the Ultra and adjust the sensor readings accordingly. I tried the fix, it works well, and I haven't experienced the issue since.
Weird "HIGH Above 400" Readings During Exercise: these occur when the transmitter/sensor connection comes in contact with water or very high humidity levels. Once the water evaporates, the error goes away and the sensor works normally. This error is called a "shower spike" because it usually happens after a shower or swimming. He added that I should clean the transmitter electrodes with alcohol after every sensor change to ensure a good connection. My first experience with this error happened while I was running the Lion Street steps and sweating profusely. The sweat must have hit the sensor/transmitter connection and caused a short. My second experience was after swimming and showering with the shower patch. After wearing the shower patch for over an hour combined with the increased activity must have caused the watertight shower patch environment to become very humid and cause a short. Now I know what causes this error and to be aware of it.
Heart Rate Monitor Interference: they are investigating the issue, but haven't been able to replicate the interference in the lab.
Software: they are working on the software and it should be out soon.
It was very nice speaking with the clinical director of Dexcom about my issues with the system. He was very friendly and offered to keep in touch to check on the status of my issues and questions.

The research for my sensor comparison is taking much longer than I had anticipated. There is so much info I plan to deliver my report in a few different segments. I should have the first report complete next week.
Regards,
Matt

I do not work for nor am I compensated by Dexcom in any way. I'm writing this story because I think continuous glucose technology is interesting and exciting. Also, I am not a health care professional and do not give medical advice. I will share my experiences, but please check with your health care team before making any changes to your diabetes or health management.