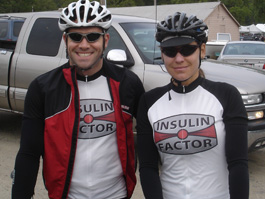 Insulin Factor departs at 7:00am.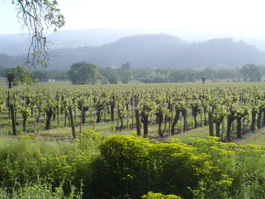 The sun comes out in Napa Valley.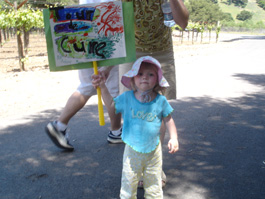 Tour de Cure supporter.
5/11/06: Napa Tour de Cure
Overall, Dexcom and I had a great time at the 100 mile Napa Tour de Cure for the American Diabetes Association. I signed up for the ride in January and had the best intentions to put in some serious miles on the bike before the Tour. However, thanks to a increased work load and the record level rain in March and April, I didn't spend much time on the bike. "Oh well, how hard could 100 miles be?" I thought to myself, "I've ridden the distance before, so I'll be fine."
It was a chilly and foggy at 6:30am before I started the ride on Sunday morning. I wore my layered cool weather gear, knowing it would eventually get hot once the sun came out. I packed plenty of Clif Bars, Clif Shots, and glucose tabs to fuel my BG and body throughout the 100 mile ride. I was excited that my new friend Dexcom was joining me for our first long-distance ride together. I put Dexcom and my meter in a special bike Velcro case, called a "Bento Box," where the headset meets the top tube. This way, I could look at my Dexcom easily while riding.
I rode the first 30 miles by myself, at a nice moderate pace (18 to 21 mph). At the first rest stop, an Ultra fingerstick read 167 and Dexcom read 172… pretty close. I had come down pretty significantly since I started the ride. I ate a Clif Shot every 30-45 minutes and continually sipped a bottle of water or Gatorade. I periodically checked my Dexcom, just to see my BG levels.
A few miles after the first rest stop, I spotted a fast moving group of cyclists in a pace-line. I jumped on the tail of the line and thanks to aerodynamics, was now speeding along at 23 to 28 mph! They were a Bay Area semi-pro cycling club and welcomed any rider who could keep up with the group. It was starting to get hot so I took off my vest and arm warmers while riding in the pace-line. We all took turns at the lead, deflecting wind for the rest of the group (similar to how a flock of geese flies). At the next two rest stops, Ultra fingerstick tests and Dexcom readings were both around 110.
At mile 70, my lack of base training caught up to me and I started to slow down. My BG levels were fine, but my quads started cramping, which meant I was probably low on electrolytes (salt). The group nicely offered to ride at a slower pace, but I told them to go ahead without me. The cramping continually got worse and I was in desperate need of electrolytes. Unfortunately, the next few rest stops weren't properly supplied and run out of sports drink (full of electrolytes) early in the morning. At one point, I stopped at a winery, hoping to find Gatorade or even a giant salt shaker. Both my legs cramped up and a woman ran up to me asking if I was okay. A little embarrassed, I told her about my dilemma. Luckily, she and her boyfriend had just finished a triathlon and offered their extra supplies. I ate a few GU's and drank a quart of Odwalla Tangerine juice. After sharing a few triathlon stories, I felt as good as new. I thanked both of them and continued to ride.
The last 10 miles were a little windy, but fairly easy. I finished the ride feeling a little stiff and tired, but overall it was a great experience. After stretching and drinking two bottles of Gatorade, I looked at the Dexcom 9 hour graph. It showed that during the 100 mile ride my BG's stayed between 90 and 160. What a great ride!

Regards,
Matt

I do not work for nor am I compensated by Dexcom in any way. I'm writing this story because I think continuous glucose technology is interesting and exciting. Also, I am not a health care professional and do not give medical advice. I will share my experiences, but please check with your health care team before making any changes to your diabetes or health management.