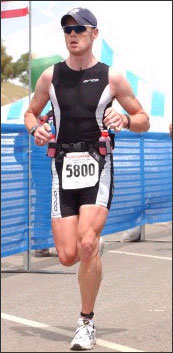 Race 1: Half Ironman Distance (1.2m swim, 56m bike, 13m run)
Preparation for this race had been the same for every other one - thousands of miles in the saddle and in the mountains, a medium amount of running, and no time in the water at all. Swimming is not a sport I particularly like, and I always lose time in the water, but I do enjoy the challenge of making all that time, and more, up on the bike and run.
The most important aspect to focus on for almost 6 hours of full-on racing is blood sugar stability, as well as hydration. I had trained for over 5,000 miles in the winter on the bike, riding a minimum of 55 miles and maximum of 125 miles on each ride, with some days including almost 11,000ft of climbing in the mountains. This amount of riding and concentration enabled me to gauge how much carbohydrate and fluid to consume throughout the set period of exercise, and has served me well in each race since.
Going into the water, I checked my blood, which was a high reading of 19. Pre-race nerves, not to mention the sheer scare of being thrown into deep water in a pounding rain storm with 400 other people, and nothing but a wet suit between me and breathing water for the rest of my life…
I took a shot of 2 units Humalog and 3 units NPH before leaving transition to go and swim, and entered the water with all intention of going at my own pace, which I stuck to pretty well. I didn't lose as much time as I imagined in the water, and came out strong into T1. As for all diabetics, the transitions are not a time for fast clothing removal, and hammering out on the bike with your shoes hanging off the pedals. It's a point at which to check your life is safe, your blood is good, and you can start the next process. Add to that trying to put on wet cycling clothes, leg warmers and all, onto wet skin in the downpour, and I can see why my T1 was somewhere around 8 minutes or so. My BM was down to around 7, so great to begin the bike race portion.
My bike was awesome, as I would always hope it would be, given that it is my background, my sport, my life. I was never passed by a single person on the entire ride, just hammering by other great sports folk on my road bike, not a tri-bar in sight. No need. It's all in the legs!
Along the ride, I consumed a Gu every 25 minutes, being notified by my watch alarm when it was time. I also took down 2 full bottles of Gu20, which obviously fuels the energy stores, but also replaces electrolytes which are highly important, even on a wet and cold day such as this. So I guess I took in about 200 grams of carbohydrate during the bike.
T2 was much faster, now things were beginning to dry out nicely. My blood was a stable 8, and just before I descended the steep hill down into transition (at 65mph, 9 slower than last year's of 74mph), I quickly ate a Clif bar to fire up on sugar and head out fast on the run.
The run being held on the road was much more enjoyable for me. I love the trails, and I love the heat, but I guess I didn't relish the thought of knee-deep mud and slippery trails for a couple of hours. So, I continued to run at a set heart rate (between my racing range of 160 and 180), and took a Gu every 30 minutes, coming down to every 15 minutes on the last lap.
I came in strong to the finish, and finished 174th of my age group. Blood was stable still, and I quickly settled down in transition, laying out on a towel with my legs elevated against the handlebars of my racked bike, to remove the lactic acid from them and prepare them to race again the following day, even harder. I took 2 units of Humalog and ate two apples and one PowerBar Protein Plus bar for protein recovery.
That night, I enjoyed a pasta, chicken and pesto meal (in our nice, warm RV!) and a deep sleep to ready for the next day.
Race 2: Olympic Distance (.8m swim, 25m bike, 6m run)
I turned up to this race with fresh legs, a fresh mind, and a blood sugar that was greatly controlled by racing the previous day, and this is why I ride hard each day of the week! I felt as if this was the first race, but I felt good. Not to mention, the sun was shining! I took just 2 units of NPH before this event, knowing that Humalog would have made me crash too fast, and that my metabolism was more sensitive than the day before.
The swim was less nervous than the previous day, as I knew I could do it in the sunshine, but there was a stiff breeze blowing, which pushed the current on the way out, and hindered you on the way back. I took quite some time to get back.
Coming into T1, my blood was down to just 3.2. Pretty close to being out of it. So, I gulped down 4 Gus (80g carbs) while I threw all my bike kit on, ran out of transition and took off up the hill like a bat out of hell. I surely must have had the fastest ascent that day or any rider, I was on fire. Gu really does pump me up when I need it!
The ride was great. Really fast, legs feeling really fluid and supple, muscles working well. Again, in roadie style, I hammered the whole course and was passed by no-one, and my average speed was a shade over 23mph for the 40k. I drank one complete bottle of Gu20 and ate 3 Gus during the ride, keeping to the beeps on my watch. Once again, a 60+mph descent took my into T2, where this time my blood felt good and I was feeling great in my legs and lungs, so I took off on the run almost immediately, and did a great loop. Knowing the course from the previous day, and knowing there was only one to do(!), made me more comfortable in pushing that little bit harder, leaving my heart rate out of the equation and just pushing myself to get back fast. My finish time was in the region of 2:45 and I took 46th in my age group - not bad for a diabetic who had raced a half-ironman the day before…