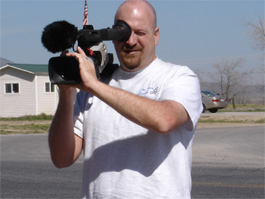 Derek: Director, Manager, Camera Guy, SAG Driver, Friend, Matt V.'s Roommate, Our Master and Commander.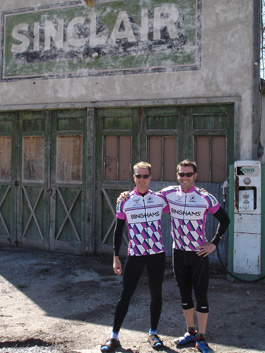 Kim and Matt V. waiting for the Sinclair to open.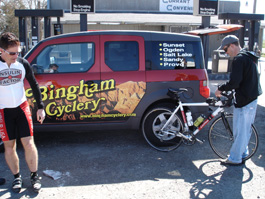 Skylere Bingham finely tunes Dave's bike.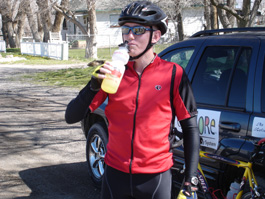 Matt S. after his 16 mile warm up.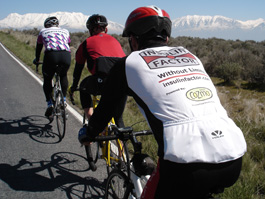 Good paceline around Lake Utah.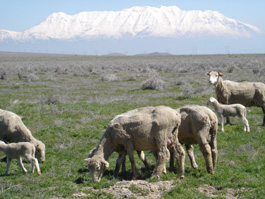 The "No Limits Cycling" Fan Club.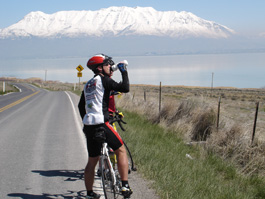 BG check and a nice view of the lake and mountains.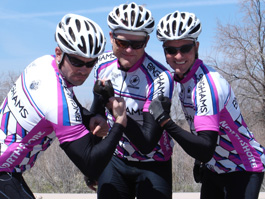 "We're ready to pump you up!"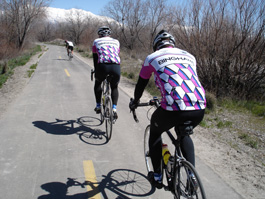 Cruising on the bike path.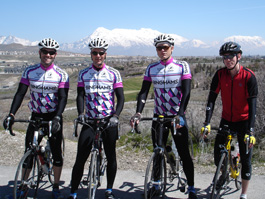 Waiting for Derek's cue to start riding up the hill.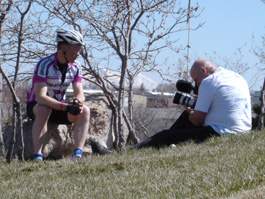 Take 27 of Pete's personal testimonial. "Wake us up when you're done, Pete."
Date: Destination, Miles
4/1: S Border (pre-ride), 0 mi
4/2: Cedar City, 77.9 mi
4/3: Milford, 53.5
4/4: Delta, 74.1
4/5: Santaquin, 71.8
4/6: West Valley City, 68.0
4/7: Ogden, 42.5
4/8: Northern Border, 63.1
4/9: South Tow Center, 15.0
Total: 465 miles
April 6: Payson to Sandy
51 miles, 1080 ft elevation gain
35 mph max speed, 17.8 mph avg speed
This morning, I woke up with a BG of 45, which was after eating 8 big slices of pizza for dinner. I drank half a bottle of Gatorade and was back up to 95 by breakfast. Everyone, including me, was pretty quiet at breakfast. My legs were stiff and sore, in addition to feeling a little sleep deprived. When our breakfast arrived, we talked about our route options for the day. Option 1: ride 15 miles back the way we came yesterday, to meet up with the road to Sandy (70 total miles). Option 2: drive the 15 miles to the road to Sandy (55 total miles). Due to the state of my legs and energy level, I went for option 2. Pete and Matt S. went for option 1, so Kim, Dave, and I met them at the Sinclair station.
The beginning of the ride was very painful for me. My legs felt like concrete. I stayed in a very low gear and spun my pedals at a high cadence. I kept thinking, "Why am I doing this? I'm so sick of riding my bike. I wish I was at home watching TV. I'm tired of being tired. I hate bike riding."
An hour into the ride, we all stopped for a BG check. I was at 145, not bad. I stretched my legs and had a few sips of water. When I got back on the bike, my legs felt pretty good. To the left, we had a great view of Lake Utah with snowy mountains in the background. The sun was shining, there wasn't any wind, and we had a great pace going. My attitude took a 180 degree turn, "I love bike riding! I'm so glad I'm doing this ride!" I thought to myself.
We rode through rolling hills around the rest of Lake Utah, then took a break for lunch at a nice park. While eating, we saw another cyclist riding through the park. We all jumped up, waved, and cheered. That was the first rider we had seen since we started on Saturday.
After lunch, we rode along the Jordan River Parkway bike path for 12 miles. It was nice to not have to think about cars, semi-trucks, or railroad tracks for a while. After the path, Derek directed us to ride up these steep hills, in formation, for the "perfect" shot. Two takes were all we had in us.
It was now very clear that we were in the Salt Lake City metro area. There were lots of cars, people, gas stations, stores, and stoplights. This was a huge change from the rural parts of Utah we had been riding through all week. After a great downhill on 106 South, we rolled into the Comfort Inn. Although my legs felt pretty good, I was exhausted and needed a nap. My 60 minute snooze, followed by a 30 minute massage, made me feel like a new man. We have just two days to go and 100 miles left to ride until we get to the Utah/Idaho border.
BG, Carbs, Etc.
Even though I woke up with a low BG, I had some higher numbers today. My BG's ranged from 105 to 275 during the ride. I think because today wasn't as intense as the past few days, I wasn't as sensitive to insulin. I backed my insulin to carb ratio a bit to 1 unit/20 gms of carbs. I ate about 530 gms of carbs today.